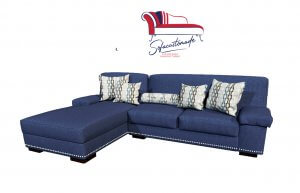 You might think that there are no Top Sofa Trends in 2021 when it comes to furniture. Furniture is supposed to be everlasting, right?
Well, sorry to break it to you, but you couldn't be more wrong. There are trends when it comes to sofas after all. But don't worry if you are completely blank when it comes to sofa trends. We are here to save you. Here are the top custom  sofa designs for the year 2021!
Shades of pink
When it comes to furniture and sofas, especially custom sofa, pink is the new black. It's time to ditch the warm neutrals and opt for a statement sofa in pink hues. Although some people might remark that pink is only suitable for kids, we highly disagree. Pink is a harmless color and colors are for everybody!
At Sofa Custom made we have a lavish range of over 2000 different fabrics. You can expect to find luxurious velvets, silks, and the finest quality leather in our collection. All fabrics are handpicked by our competent team in view of the latest trends. So, you can surely expect to find a shade of pink that suits your tastes and goes with your interior. If you need any further convincing for this trend of pink-hued furniture, feel free to check out Pinterest. We can assure you the beautiful pastel pink tones will take your breath away and before long you would find yourself dipping your toe in this trend! Top Sofa Trends in 2021.
Geometry
Another latest trend for furniture is a touch of geometry. Who knew that high school geometry will come into use after all?
To jump on this trend bandwagon, you can incorporate any geometric shape in your sofa. Perhaps a hexagonal seat, or maybe the cushions could be in a different shade, or you could incorporate a bit of geometry in the sofa feet; the possibilities are endless and Top Sofa Trends in 2021.
Sofa Custom Made gives you the remarkable freedom to draw your dream sofa on our app. Think of it as an MS. Paint version for sofas. You can whip up any shape and design you want and then check if it looks good. This eliminates the concern of the sofa not meeting your expectation. Our  app has amazing graphics so all the minute details of your sofa can be emphasized with remarkable clarity. So, all you have to do is get creative and draw what you want us to make. Rest assured that Sofa Custom Made will make you an exact replica of your drawing.
Natural materials
Environmental sustainability is essential for us all. There is a global trend towards favoring environmentally friendly products instead of cheap, synthetic materials.
Organic and natural upholstery is the new trend for 2021. You can incorporate wool cushioning for your couch, or you could even incorporate other natural materials such as bamboo.
There is no need to overdo it, just a touch of natural materials is good enough. This also gives you the opportunity to customize the materials used in your sofa. If anyone in the family is allergic to synthetic materials, natural materials are great alternatives, and they look pretty good too Top Sofa Trends in 2021.
Rounded shapes
Your living room is supposed to be a nice, cozy environment where you make quality memories; it is not supposed to look like a doctor's office. So, gone are the days where only boring, long couches were preferred. If you want to spice up your living room without playing with colors, try incorporating a bit of round shapes. It could be round seats or round cushions, or you can be trendy and get a curved shaped sofa for your living room.
The reason for the immense popularity of the curved sofas is their shape. The curve allows all people to see and interact better with each other. And it's not just about their social benefits, curved or round shape sofas look so, very gorgeous too.
We have a variety of rounded designs in our catalog available on our website. You can feel free to check the designs for inspiration, or you can check to take some ideas from Pinterest and design your own sofa. However, rest assured that rounded sofa shapes are here to stay. If you want to invest in a quality timepiece that transforms your living room, you can safely opt for this trendy choice.
Antique pieces
Although the name suggests otherwise, antique pieces are making a comeback in furniture trends. The intricate carvings and designs embody luxury and finesse. If you want to opt for something more decent and elegant, you can incorporate a bit of carving into your sofa. It could be on the legs or the arms, or anywhere else, but it never fails to transform the look of your entire sofa. Remember, 2021 is all about the details, so the antique piece doesn't have to be too flashy. All you have to do is focus on the small details and you are good to go.
Sofa Custom Made features some beautiful carving designs which are a display of our splendid workmanship. Our handmade pieces are fine and nothing short of luxurious. Feel free to browse our website for the most beautiful antique collection Top Sofa Trends in 2021.
Opt for trendy colors
If you are reluctant to change the shape of your sofa, or if you think rounded shapes and geometry won't go with your interior, you can opt for a safe choice and go with trendy colors for 2021. Even changing something as basic as the color of your couch is sometimes enough to uplift your living room.
The top color trends for your furniture in 2021 include warm grey, green-grey, French vanilla, and hazelnut. The French vanilla looks particularly breathtaking when paired with a yellow or mustard interior. You can add contrast to the cushions by adding a bit of yellow or mustard color too. Warm grey is another good choice. Warm neutrals have always been favored by many. If you too are a fan, don't be shy to add this incredibly decent color to your upholstery.
So, folks, this was all about the top upholstery trends for 2021. Think about Sofa custom made and revamp your boring living room!