You might not have come around with this fun concept before, but the very custom sofa colour that you pick for your custom made sofa tells a bit about your personality. The notion in which these colors exhibit your personality might change from design to design, but the end meaning remains the same on a universal scale. Your sofa, without any doubt, is the shining star of your whole living room and is the centerpiece that everyone will be seeing while entering your house. That is why you should be very astute and confident about your choice in terms of the sofa color and whatnot.
Most people might not have any worries about picking up a sofa color, but for some, it might be serious work because more than one color might be speaking about the individual style or personality of that person. OR, in simpler terms, that person might be interested in more than a single sofa color.
Custom made sofa for you.
The best way to come around the hurdle that you are facing in terms of wanting a specific sofa color and then not getting it in readymade variety is to go for custom made sofa. At the custom-made sofa, we make sure that our customers get what they want instead of selling them designs that are non-inspiring to their personality. You can select/choose not even the dedicated color of your sofa but also the type of build material, in such way the number of options that you have in here is exquisite, and we always tend to deliver on our word that is done with you prior to manufacturing your dream sofa.
If you are interested in finding more about the type of custom sofa colour your sofa should have and what kind of message it puts forth regarding your personality, then continue to read through the following passage;
Yellow
Yellow is determined to be the happiest color there is and not in the sense of sofa shades but in overall meaning. It does represent optimism and a sense of energy. You will be giving your living room a burst of lively and earthy color by going with a yellow sofa. It is the best way to keep everything shining and subtle around your living room. If you want your sofa to be an all-time star and the central attraction in all living room, you must go with the yellow custom sofa colour because it won't allow anything else to take the center position in your living room.
Orange
Orange is a controversial color, and its presence or absence in a living room is not taken seriously enough. There are both types of people out there, there are some who absolutely loves it, and there are those who hate this color and don't want to be anywhere near it. If you tend to like it, you are definitely the type of person who loves the décor that is warm, inviting, energetic, and fun. But on the other hand, if you don't, it is possible that you find this color a little too intimidating and conquering. Because it would undoubtedly mask the presence of every other item in your living room, and you would have to keep everything neutral around this sofa color.
Red
Red is taken by most of the people who are not a real fan of the orange color as the same type of color that is intimidating. But the original purpose of a red sofa is to make a statement, and it surely doesn't feel as overwhelming as the orange color would do. This color represents you like a warm, inviting, and full of confidence and action and at the same time helps you set a bright and clear tone in the living room. On another note, the red color is also associated with energy, so if you want your living room to spark vibrant color, then red is for you.
Purple
Purple sofa color sits somewhat around the neutral spectrum of the colors, and it is uplifting and dedicatedly warming for your living room. It will invoke a sense of spirituality and being involved with the creative process. For some people choosing the purple color might come out as some sort of risk because the chances are that it might not fit with the overall hue or color pattern of the room. But if it is added at a dedicated time with just the right amount of hue backing it up, it is the best sofa color you will find out there.
Many different shades of purple color are available that range from lavender to plums, and you can adjust the tone and vibrancy of this color according to the natural habitat of your living room. It can be styled or depicted as something that is cool and inviting and warm or vibrant. It depends on your choice and the versatility that you want this specific color to bring it on at the end of the day.
Blue
Blue is a hugely popular color, and the very reason is that it is considered a calm and soothing color. It feels more classic and often not as a design risk to go with the blue colored sofa. It feels cold, inviting, and at the same time patronizing with the overall appeal of your room.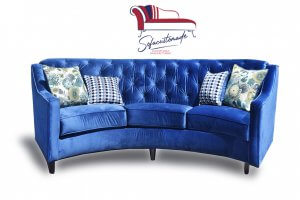 Green
Due to its overreaching presence and acceptability as nature's custom sofa colour, the green color sofa is extremely popular among nature enthusiasts and environmentally friendly people. Not only is this color soothing, but it also instills a sense of harmony and peace and is the best type of sofa color to go with if you absolutely adore nature.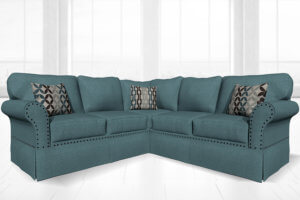 White
White will evoke a sense of utter cleanliness and purity and should be the favorite custom sofa colour of the person who is absolutely in love with cleanliness and adores the idea of keeping everything neat and tidy. Many would avoid the white sofa altogether because of its implications in terms of cleanliness, but it is the most graceful and substantial color there is.
Final thoughts
No matter what kind of custom sofa colour you choose to go with, remember that only a customized design will help you at the end of the day. At the Sofa Custom Made, we help you to develop the finest custom sofa designs that become a graceful attraction for your living room.